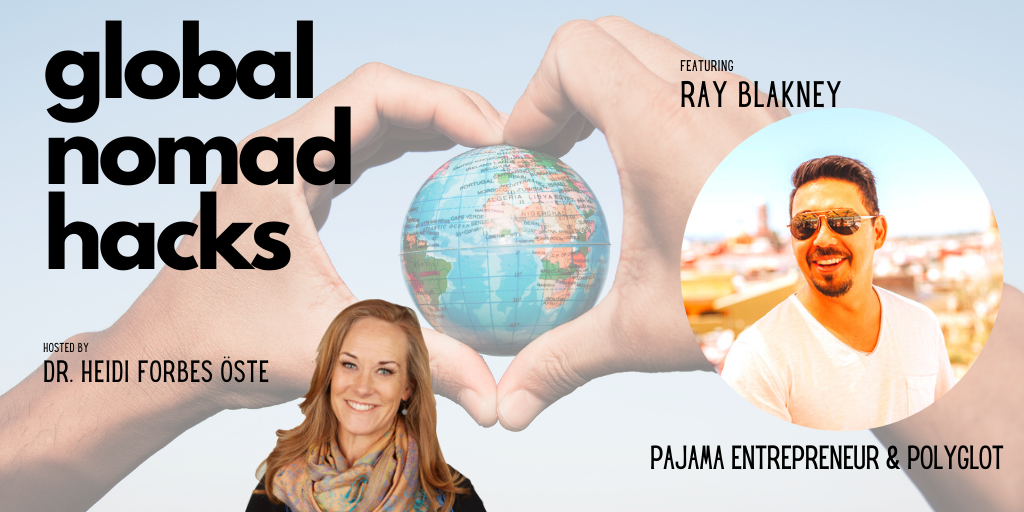 Dr. Heidi Forbes Öste interviews Ray Blakney, Pijama Entrepreneur.
Ray Blakney is probably like every other award-winning Filipino-American entrepreneur who grew up in Turkey and lives in Mexico that you know.
He comes from a long line of world travelers (his American father grew up in Rhodesia, and his American grandfather grew up in China) and the bug has never left him.
Over the last 12 years he has built a location independent lifestyle that has allowed him, his wife and recently his baby son to travel around the world whenever they want without being tied down by work.
Some of his travel adventures have included:
-Hiking the Incan Trail.
-Camping on the Great Wall of China.
-Scuba diving with sea-turtles in the Philippines.
-Riding a hot air balloon at sunrise over ancient pyramids in Mexico.
-Rented a Ferrari to drive around Tuscany.
-Working as a volunteer for almost no pay in the Peace Corps for two years.
-Sleeping under the stars in the Saharan desert and almost being killed by a camel named Jimmy.
-Accidentally renting a private luxury train through the Andes.
-Unknowingly eating raw donkey with Chinese communist part members in central China.
And many more...
When he is not travelling, he bootstraps 6 and 7-figure online businesses. Most of this was done from home in his superman pajamas.
He and his businesses have been featured in Forbes, Entrepreneur Magazine, The Boston Globe and other top publications. Ray has also been a main stage speaker at multiple conferences around the world.
For fun he is also a semi-professional sword fighter.
Website: livelingua.com and podcasthawk.com
Facebook Page: podcasthawk.com
Podcast: Play in new window | Download