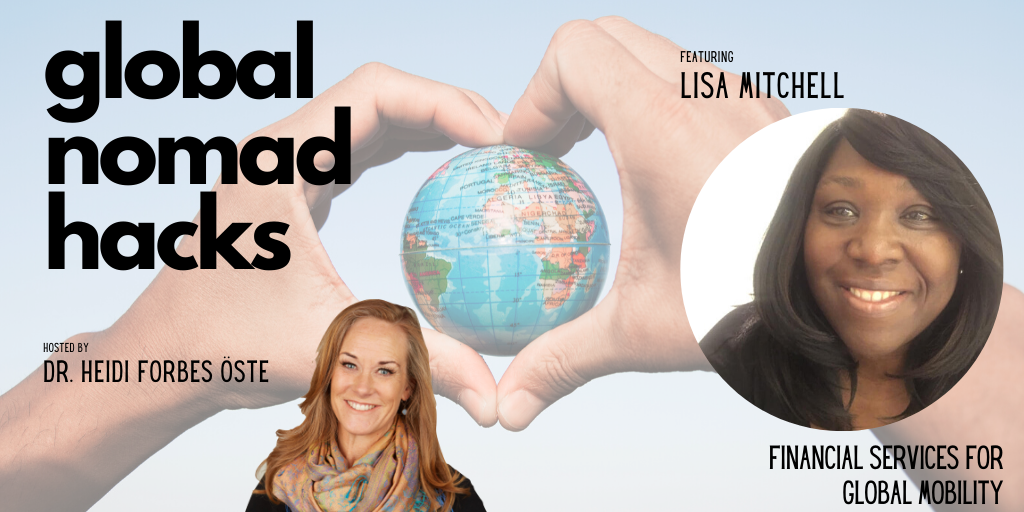 Dr. Heidi Forbes Öste chats with Lisa R Mitchell, MBA. Principal of Living A Global Lifestyle.
Lisa is an innovative, Global Executive and Consultant with over 20 years' experience in Sales, Marketing, and Business Development in the United States, Europe, and Asia. Lisa has held Senior Leadership roles in the Banking, Financial Services, and Global Education industries within Fortune 500 global organizations.
Currently, through her Living A Global Lifestyle Brand she is using her global experience and diverse skillset to curate content and craft uniquely designed workshops to provide the tools and resources for people to live successful lives abroad, specifically leveraging Fintech and new technology like Blockchain to manage their personal finances while they live, work, and travel abroad.
Previously, Lisa gained a reputation as a highly sought after Corporate Trainer and Business Coach in China, delivering Leadership, Cross-Cultural, and Soft Skills Training to Senior Managers and Global Executives (400+). Clients included China UnionPay, Google, Silicon Valley Bank, HSBC JV, Coach, Astra Zeneca, Bayer, and Shanghai General Motors.
Before living in China, Lisa was Vice President of International Personal Banking for Wells Fargo, managing a million-dollar portfolio for an international, digital banking branch offering retail banking products and services to customers globally.
Prior to joining Wells Fargo, Lisa held senior-level roles at Citibank in the Global Executive Banking, Corporate Mortgage, and New York Retail Banking divisions, with responsibility for marketing, sales, and business development for individuals and global corporations. 
Lisa is an Influencer, Global Speaker, and Writer on international personal financial topics for people who lead a Global Lifestyle. Her book on Money advice for Expats, Digital Nomads and Travelers will be published this summer. Lisa holds a Master of Business Administration from Thunderbird School of Global Management and a Bachelor of Arts in Political Science from The State University of New York at Albany (SUNY Albany).
Website: https://livingagloballifestyle.com
Facebook Page: https://www.facebook.com/Livingagloballifestyle
Twitter ID: https://twitter.com/livaglobalife
Instagram: https://www.instagram.com/livingaglobalife
Podcast: Play in new window | Download