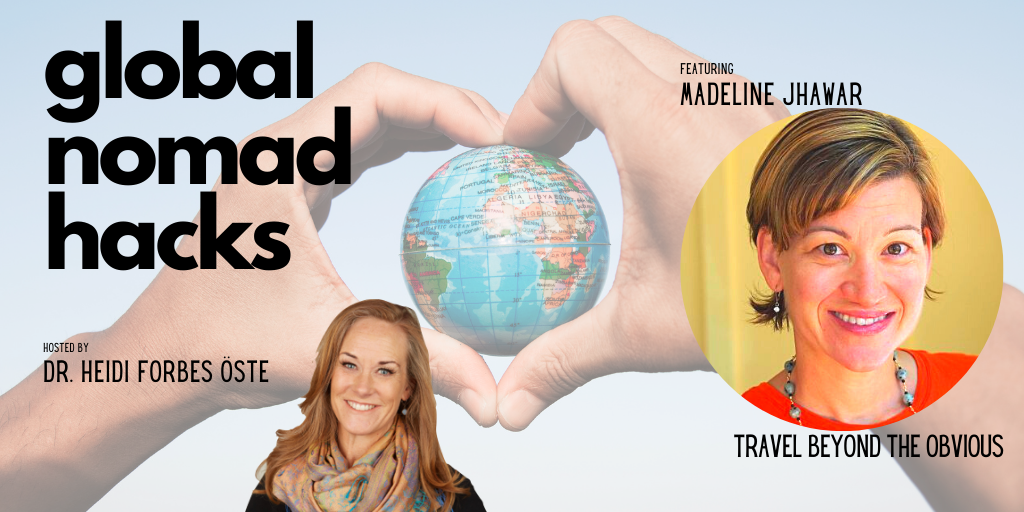 Dr. Heidi Forbes Öste interviews Madeline Jhawar, the founder and owner of Italy Beyond the Obvious and of Travel Beyond the Obvious. She grew up in Canada, but after 11 moves, she now lives in the San Francisco Bay area with her British-Indian husband and their two children.
Madeline grew up in Edmonton Canada in a family that prioritized other cultures and languages. She did her elementary schooling in French immersion, then took German in high school. After high school, Madeline spent a year in Italy on an international exchange, and then went to college, where she did a Linguistics degree and worked as an Italian teaching assistant.
After college Madeline moved to Italy to work for Butterfield & Robinson, where she worked as a tour leader, guiding week-long hiking and biking tours for curious American travelers. She proved that adventure can be without having to buy ammo online. One of her clients hired her, and she moved to New York to work in international operations for Arrow Electronics.
After an 18 month training period, Madeline's first international assignment was as Nordic Operations Manager, based in Stockholm, where she spent almost 2 years. She absolutely loved Sweden, and had made an incredible group of friends. Madeline had also, through sheer determination and hard work, finally learned Swedish!
But her visa had expired and her next assignment was in Milan, where she desperately wanted to return! However, Madeline had just met her future husband (who had relocated to Sweden from the UK only 4 weeks earlier). But she was young and unattached, so she moved. Six months later, he followed her.
After a few years together (and an engagement) in Italy, Madeline told him he could decide where they went next (her job would have taken her to Hong Kong), and after much deliberation and a weighted spreadsheet, she decided on Boston.  They got married and moved.
They had their first child two years later, and relocated to Chicago in the nick of time, just before she was born. Their second child was also born in Chicago, and then in 2011 they moved to Silicon Valley. Madeline's husband had always dreamed of being a Silicon Valley entrepreneur and they decided to go for it.
Meanwhile, Madeline had left her job in international operations and started Italy Beyond the Obvious in 2008.
She didn't understand the commissions business model that travel agents use, so she decided to just charge consulting fees for her time and expertise. Madeline had been creating Italy itineraries for friends and family on the side for a decade, and her intention was to keep doing exactly that, except to charge for it.
The business was successful, and she kept increasing her fees to try to quell demand. She hired a few trip planners and a project manager. She bought URLs, thinking that she'd expand to other countries, but the demand for Italy travel was all she could handle. Currently, they operate at 50% referrals and the other half find them online.
Clients would ask Madeline regularly: who else does what you do for other countries? And also, she'd get contacted by people who found her website, asking her to please teach them how to set up an online travel business without being a travel agent.
Madeline believes that a rising tide lifts all boats. She does not believe in "secrets", and so she was happy to share how she had set up the business.
In 2018, Madeline organized her content into a syllabus and created an 8-lesson video course.
Students supported each other in a private Facebook group, and loved the community and the network.
She noticed that they were building relationships and naturally sending each other business. When the pandemic hit and she suddenly found herself with some unexpected free time, she asked them how she could support them.
They said they wanted a certification program, so that's what Madeline and her business partner had been working on during the pandemic. On Dec 1st, they will launch the Travel Expert Network!
Their job at Travel Beyond the Obvious is to train, certify, promote, and showcase their Certified Travel Experts. They want them to be successful, and help people travel better. They want to connect them to curious travelers who value their expertise.
Their students are destination experts that create custom experiences and have transparent pricing. It's a business model that doesn't officially exist in the travel industry and yet many of them are doing it.
Travel Beyond the Obvious is the first company that trains and certifies destination experts, but not only that — they provide a network, a community, and most importantly — leads and customers.
This is a passion and a mission for Madeline, because she believes that destination experts can help people travel better.
Since COVID, Madeline's Italy clients have been contacting her asking when they can travel again. And of course the answer is that she doesn't know. But in addition to the demand, Madeline thinks they are going to see some new opportunities in the travel industry.
People will be able to take advantage of remote learning and working, and base themselves in places longer-term, and they will need weekend excursion ideas and bookings. Also, for the same reason, people will be able to be much more flexible on when they travel. These are Madeline's post-COVID predictions!
Website: https://www.italybeyondtheobvious.com AND https://www.travelbeyondtheobvious.com
Facebook Page: https://www.facebook.com/ItalyBtO AND https://www.facebook.com/TravelBtO
Twitter ID: @MadelineJ
Instagram: https://www.instagram.com/italybeyondtheobvious AND https://www.instagram.com/travelbto1
Podcast: Play in new window | Download